Introduction
The workflow limit is the maximum workflow you can create in your Captain Data account.
This limit is only for: Trial and Old plans (Lunar, Mercury, Apollo, Mars, Stellar, API).


If you have a Growth Plan or above, there is no limit. (Unlimited)

To see how many workflows you can create in total, look at your plan in your Subscription Page.
You can create a workflow by going on the "Templates" or on the "My Workflows" section and click on

"

+New Workflow".


Reminder
ℹ️ A workflow is automating one or more tasks.
So you could have 5 workflows with 4 tasks in each.
Or 5 workflows, each automating only one task.
It's entirely up to you to manage your project.


Once you've reached the maximum number of workflow on your project, you'll not be able to add/create more workflows.


Of course, you can still run the ones you've created already!

If you are in this case, you have two solutions:
Upgrade for a higher plan -

If you want to upgrade, please, contact sales for more information at

sales@captaindata.co or contact your account executive. :)

Remove unused workflows
Delete a workflow
To delete one or more workflows, head over My workflows.
On the right side of your workflow's card, click Actions > "Delete":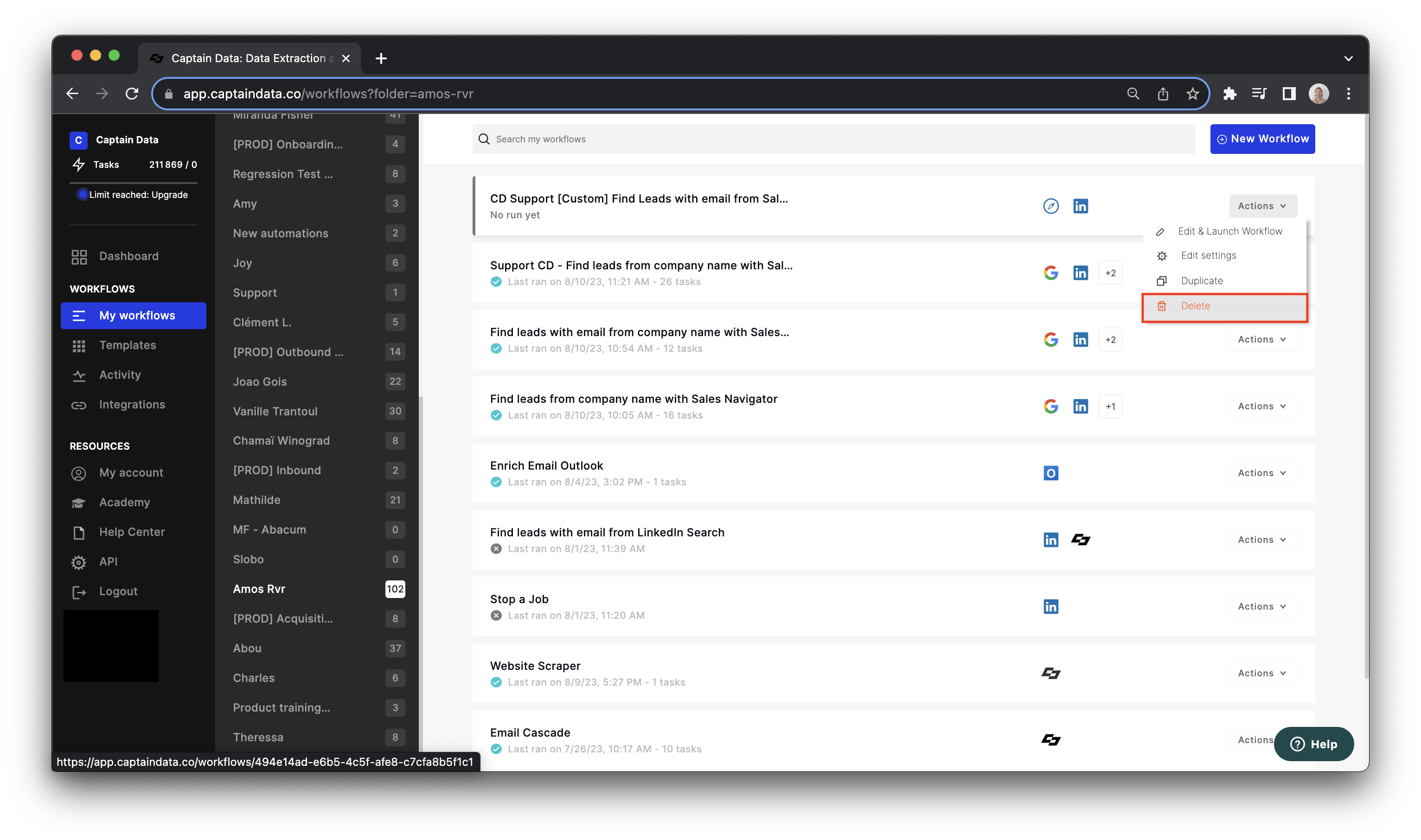 Workaround
There's another way for you to avoid the limits.
When you're launching a workflow, a pop-up window will appear:
We always recommend creating a New job instead of Creating a new workflow 🙌
Of course, at times it's better to create new workflows, for better segmentation within customers for example; in this case, reach out to sales@captaindata.co.